A New Year is an appropriate time to introduce new wines.

Have you ever considered adding Terrasses du Larzac to your portfolio ?

Considered "the greatest place in Languedoc" by award-wining Wine Columnist Andrew Jefford, Terrasses du Larzac are becoming a must.
Terroir wines combining character with elegance, their reputation is fast growing among discerning wine lovers.

And what about Clairette du Languedoc?

One of Languedoc's masterpieces, Clairette du Languedoc has a long and prestigious history and is now living through a revival.
We offer both the dry and sweet rancio versions of this exciting Appellation made from a single varietal, the White Clairette.

Please feel free to contact us for further info on Terrasses du Larzac, Clairette du Languedoc and Domaine la Croix Chaptal, or to arrange a suitable opportunity, should you not be visiting Vinisud.

Hoping to see you very soon in Montpellier, best regards.

Charles-Walter Pacaud

One of the best wine tasting events I've been to all year was the one featuring Languedoc AOC wines, where I tasted wines made from grapes that were unfamiliar to me and learned about the fascinating history of this wine region.
Below is a look at just a few of the 31 wines that were poured. I was impressed with the aroma, taste and food-friendliness of all that I tasted.


Short summary of our latest press review :

Guide Hachette : 2 x 2 étoiles pour chacune de nos Clairettes, pg 664

Decanter : notre Clairette 2016, un des 30 meilleurs blancs du Languedoc-Roussillon,

Guide Dussert Gerbert : 1er Grand Vin Classé - Prix d'honneur –

❤❤❤❤❤/5,

Wine of the Languedoc : pages élogieuses dans le livre de Rosemary George MW, pg 197 & 198

Guide

DVE Hiver 2018-2019 : nos Terrasses du Larzac (pg 409, 412 & 414), Clairette du Languedoc (pg 346 & 347) & Carignan Seigneurie de Cambous (pg 707) sont très bien notés : http://www.guidedve.com/Guide_en_cours.html

Guide Gilbert & Gaillard : nos trois cépages purs Origines , Cambous, Séverat & Witiza sont mis à l'honneur, pg 536 & 537

Wineconnexion du 19 juin : …hier, j'ai découvert un secret…

Et encore, dans un article de Hervé Lalau pour l'événement Circulade Terrasses du Larzac du 7 juillet 2018: https://les5duvin.wordpress.com/2018/07/11/ma-circulade-des-terrasses-du-larzac/

Une pluie d'éloges pour nos Clairette du Languedoc dans :

-

Les 5 du vin de David Cobbold : …star of the show… https://les5duvin.wordpress.com/2018/07/09/clairette-from-languedoc-or-elsewhere-an-excellent-a-little-known-variety/

-

Terre de Vins : …démonstration avec brio du potentiel de ce cépage… http://www.terredevins.com/actualites/clairette-du-languedoc-70-ans-et-lavenir-devant-elle/

-

Midi Libre : …un vigneron tente le vieillissement…

-

France Inter du 15 juillet dans « On va déguster » …le seigneur de son appellation… https://www.franceinter.fr/emissions/la-chronique-vin/la-chronique-vin-15-juillet-2018

Et pour rappel, Top 100 des meilleurs vins d'Occitanie lors de la London Wine Fair.

Et aussi le film e-tasting Languedoc sur la Clairette du Languedoc tourné avec Jérémy Cadière : https://www.youtube.com/watch?v=DyMCZfrfkBc

Posted on 13/05/2016 by quentinsadler

Clairette – a surprising white grape from the Languedoc

Whilst in the Languedoc recently I was able to go on lots of study trips of the wine areas and also to attend quite a few masterclasses – in fact I have been thrilled this year to learn that the French, Croat and Slovene words for masterclass are, well, masterclass!

The beautiful Domaine La Croix Chaptal – photo courtesy of the winery.

One of the best of these masterclasses was about a little known white wine called Clairette du Languedoc. The appellation / PDO was created in 1948, making it the oldest white wine PDO in the Languedoc. Only one grape is permitted, the Clairette or Clairette Blanche, which is really only found in the Rhône, Provence and Languedoc regions. It is a low acid, but high alcohol grape, so can make pretty flabby wines if you are not careful with it. It is widely grown in the Southern Rhône, where it is used as a blending grape, including in Châteauneuf-du-Pape. The grape lends its name to the sweet sparkling Clairette de Die, despite only 25% of Clairette being allowed in the finished wine, the rest must be Muscat – originally it was 100% Clairette.

In the Languedoc two areas specialise in the grape Clairette de Bellegarde, in the far east of the region near the Rhône, and Clairette du Languedoc, just west of Montpellier. So troublesome was the grape that in the past it was often used as the basis of vermouth rather than being drunk on its own, and further back in history it was a sweet wine – the dry versions were apparently called Picardon and the sweet ones Clairette. Luckily though, as is so often the case, modern know-how has come to its rescue and in the Clairette du Languedoc zone a modest renaissance is underway. The sea is only 20 km away and sighting the vineyards to catch the sea breezes and the refreshing Tramontane wind is very important to retain freshness.

The appellation is the smallest in the Languedoc with just 100 hectares of vineyard and 18 producers, 7 of which are cooperatives, but it produces four styles of wine all from the single grape. Fresh, dry whites are made, as well as sweet versions, long wood aged rank wines and fortified Vins Doux Naturels. I tasted examples of all of these and truthfully found the sweet versions to be a bit light and lacking, which is a shame as there is more sweet wine made here than dry. The drier styles quite excited me though and I brought one back to show in a tasting and it excited everyone there too.

The beautiful Domaine La Croix Chaptal – photo courtesy of the winery.

2014 Domaine La Croix Chaptal Clairette Blanche
Domaine La Croix Chaptal
AC / AOP Clairette du Languedoc
Languedoc
France

This delightful estate is owned by Charles-Walter Pacaud who hails from the Cognac region, but fell in love with Languedoc's Terrasses du Larzac while studying winemaking in Montpellier. He managed to buy this estate which has a recorded history going back to the 10th century, but Gallo-Roman archeological finds in the vineyards suggest the land has been in use for a lot longer than that. Most of what he produces is either Coteaux du Languedoc, Languedoc or Languedoc Terrasses du Larzac, with just one hectare being Clairette, but they are old vines that give better concentration and they grow on well drained stony and gravelly soil.

Charles-Walter Pacaud tending his vines – photo courtesy of the winery.

The grapes are harvested by hand, as required in the appellation, destined and spend a little time macerating on the skins for flavour and texture development. 30% is aged in new oak on the lees, with the rest aged in stainless steel tank on the lees for 18 months.

The aromas are quite beguiling, very mineral, herbal – especially fennel and vanilla – together with honey, almonds, peach skin and light toast. The palate is more fleshy with some burnt orange and a mouth-filling texture. there is even a very attractive touch of Fino sherry about it, just a point of oxidation that makes it quite delicious. The finish is very long and mineral and the more you come back to this wine the better it gets. A wonderful discovery, try it if you can – 91/100 points.

This would be wonderful with rich fish dishes, shellfish with garlic butter, fish pie, Coquilles Saint Jacques, chicken and all manner of cheeses too.

Sadly this excellent wine is not available in the UK, so contact the winery direct. I cannot find any other examples of the region available here either, so make sure you try it when you are over there.
For US stockists, click here.

One of the best wine tasting events I've been to all year was the one featuring Languedoc AOC wines, where I tasted wines made from grapes that were unfamiliar to me and learned about the fascinating history of this wine region.

Below is a look at just a few of the 31 wines that were poured. I was impressed with the aroma, taste and food-friendliness of all that I tasted.

<![if !vml]>

<![endif]>
<![if !vml]>

<![endif]>
CLAIRETTE DU LANGUEDOC

<![if !vml]>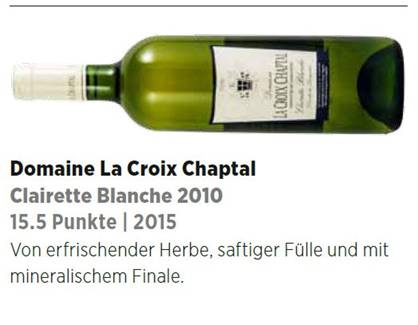 <![endif]>
TERRASSES DU LARZAC
<![if !vml]>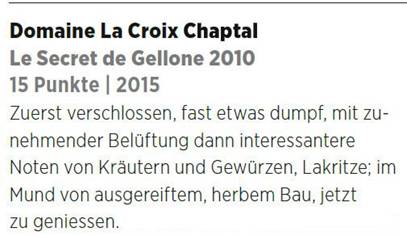 <![endif]>
For the second year in a row, Domaine La Croix Chaptal is selected as one of the top 30 Languedoc Wines on the USA market thanks to its cuvée "Les Terrasses 2007" - AOC Terrasses du Larzac - Languedoc !!!

And good news to start the New Year :
Tasting notes from Peter K Wong - Best sommelier from Hong Kong - January 2010 : Cuvée Charles 2005 :

"Aromas of grilled pepper, ripe tannins, a silky well-structured and very balanced wine. The best I have tasted from the South of France. It has tinges od the Lafite Rotschild style".

Hannoversche Allgemeine Zeitung 04-09-2010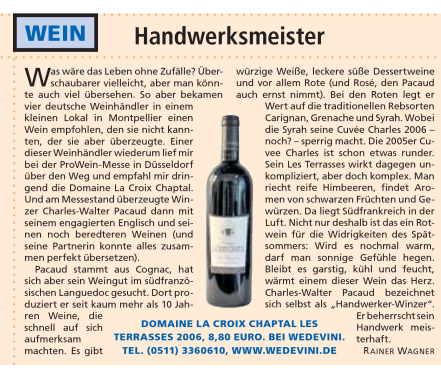 Enjoy the Languedoc - it won't be here forever, from Andrew Jefford : Decanter January 2009 (pg 21)
"...Geologically, the Languedoc hills are a synopsis of everything which makes France so propitious for winegrowing... Surely in any other country, those Languedoc hills would have been a star region; their misfortune was to find themselves sharing a nation with Champagne, Bordeaux, Burgundy, the Loire and the Rhône. And too far from Paris.
But where is the best spot in the Languedoc ? My theory is that Terrasses du Larzac is the greatest spot in the Languedoc... Stone and slopes alone don't make for great wine - as much of Provence proves - but when skilled winegrowers grapple intelligently and sensitively with nature here, the results seem to me to have the same aromatic, textural potential as the best of the Rhône..."

Wine Spectator of January 2009 : SAVVY SHOPPER
Strategies to help you choose the best wines in 2009 - TOP VALUES :
Domaine La Croix Chaptal "Cuvée Charles" 2005 = 90/100 : $20
Domaine La Croix Chaptal "Les Terrasses" 2005 = 88/100 : $15

Three stars in the September issue of DECANTER
Domaine La Croix Chaptal - Terrasses du Larzac - Cuvée Charles 2005 : 15,33/20
"Robust black-cherry nose. Ripe and oaky. Rich, supple, juicy with robust tannins. Not a lot of character but a good mouthful. From 2008"

1999-2009 the adventure goes on...
HACHETTE guide 2009 : confirmed presence of Cuvée Charles.
BETTANE ET DESSEAUVE 2009 : identity and character of our Terroir.
DUSSERT GERBER 2009 : an outburst of praises.
· Out Déodat de Séverat 2004 is praised in Terre De Vin n°30, p 18:
"Charles Pacaud's estate goes a step further with "Les Origines", a new ambitious range of three "cuvées", each one with one of the three following varieties : Carignan, Grenache or Syrah as its main basis. This Coteaux du Languedoc 2004 (17,50 €) pays tribute to Déodat de Séverat, a monk from Gellone Abbey who created the vineyard of the estate of Cambous in the early Xth century. In this wine, the Syrah variety prevails supported by a touch of Grenache and Carignan. Its nose is toasted and full of ripe wild black berries and elderberry. In the mouth, touches of blackberry jam, of prune, of thyme and ash prevail. This is a powerful, fleshy, concentrated wine but it remains fresh and full-bodied with a long-lasting mint-flavoured final touch."
Last Press Release from "Wine Reviews & Rant" - Australia : 92 points to La Croix Chaptal - Seigneurie de Cambous 2001
"The vineyard is mainly old vines planted near Cambous about 45 minutes west of Montpellier. It is mainly Carignan with a bit of Grenache and Syrah. The nose was still closed, but had a bit of cinnamon spice and licorice. The same tones were in the wine along with an almost thick structure of fine tannins. No fruit sweetness, but still a bit dark red fruits and spicy overtones. The wine was made to "express the unique terroir of Cambous as it must have been in the 10th century when owned by the monks of Gellone Abbey". This is one of the best Languedoc wines I have tasted."
Tasting scores : 90-100 = very fine, extraordinary, 80-89 = very good, 70-79 = solid, 60-69 = faults are not obvious.
Languedoc Grands Crus Wine Tasting

Is Languedoc, South of France on your wine radar? It should be; offering exceptional value, tradition and innovation, these wines are now even easier than ever to appreciate and identify thanks to new segmentation into three categories: AOC Languedoc, Grands Vins du Languedoc and Grands Crus du Languedoc.

28 winegrowers together
To Welcome You in Hall 9 - VINISUD - Montpellier, February 22nd, 23rd & 24th
Rediscover withinTerrasses du Larzac
The generosity of the Languedoc and the freshness of the Larzac
<![if !vml]>

<![endif]>
« ... To create great terroir driven wines which capture the identity of the Languedoc, to work with integrity to preserve our countryside and to invite you to share our adventure through our wines... »
Great Languedoc Wines : www.terrasses-du-larzac.com